Sustainability assessment of a deposit return system for packaging waste in Spain
The project (ARIADNA) aimed at providing an environmental, economic and social assessment of the implementation in Spain of a deposit return system (DRS) for some plastic and glass beverage containers present in municipal solid waste (MSW). The consequences of implementing this system were compared to those of the existing system, based on kerbside collection of these materials.
The client
Ecoembes
Our role
At 2.-0 LCA consultants we provided a 'social footprint' assessment consisting of an aggregated monetary value of all social impacts of the two scenarios under consideration, and a breakdown of this footprint by country and industry. The project began January 2016. Project completed June 2017.
The ARIADNA project
Currently packaging MSW in Spain is mainly collected through separate kerbside collection of paper/cardboard, glass, and light packaging (plastics, cans, liquid packaging board). Packaging waste not separated at the source is also recovered to some extent in mixed waste treatment facilities such as mechanical-biological treatment plants. However there is public debate on the possibility of implementing a DRS, similar to those in Denmark, Sweden or Germany. In this project the consequences of such an implementation was assessed by means of life cycle assessment, financial cost assessment, social assessment and social footprint. The system under study included the collection, transport, recycling and disposal of the amounts of packaging waste originated in Spain in one year. This project was led by the Cátedra UNESCO de Ciclo de Vida y Cambio Climático (ESCI-UPF). Final report available here (pdf download). See also the project poster for overview: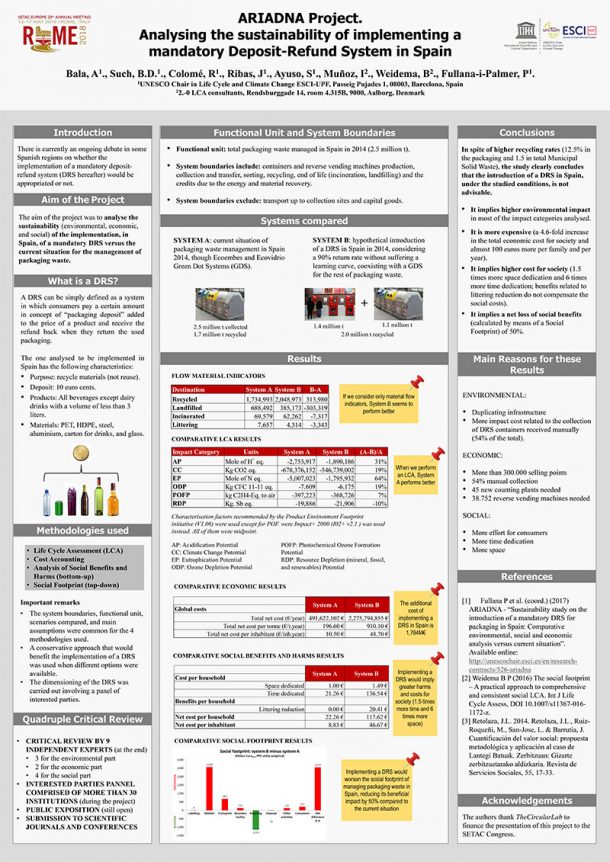 There is a video in Spanish available that present the result of the project: 'Estudio de sostenibilidad sobre la introducción de un SDDR obligatorio para envases de bebidas: análisis ambiental, social y económico comparativo con la situación actual'.