Blog
November 3, 2021 by admin
Our CEO, Jannick Schmidt, was invited on stage together with programme manager Michael Minter at yesterday's prize show in Copenhagen's Skuespilhuset to accept the Nordic Council Environment Prize 2021 for the "The Big Climate Database"! It is not often that great data attracts such limelight – but that happened last night.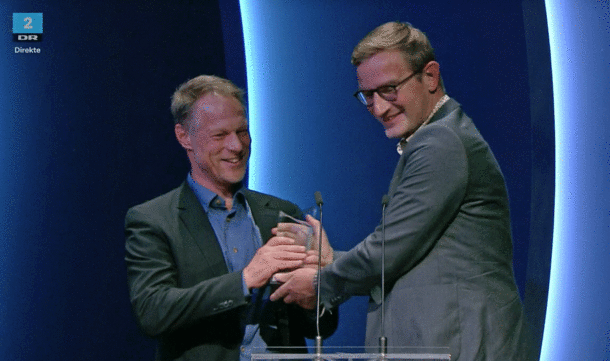 The Big Climate Database was developed by us for the Danish Think Tank CONCITO with funding from the Salling foundations and has catalogued 500 of the most common foods in Denmark and calculated their CO2 footprint. We are so pleased that the Danish Think Tank CONCITO was honoured for their forward-thinking project.
In 2019 the award was won by Greta Thunberg for calling us to action.
Now it is time to get the right data out to people to substantiate their actions.
You can read the jury's motivation in English here:
https://www.norden.org/en/news/concito-denmarks-green-think-tank-wins-2021-nordic-council-environment-prize

September 8, 2021 by admin
Do you know the 2.-0 LCA consultant's YouTube channel ? There you can see the various videos where our team presents tools and applications for better decision-making for sustainable development with life cycle assessment (LCA).

An example from today is the presentation at LCM 2021 by Bo Weidema which is made available in a prerecorded version: 'Three pillars, six capitals, seventeen SDGs, one single score – A unified framework for quantification of progress towards sustainable development': https://youtu.be/zKW50rN3yzk. Really nerdy stuff, yes. But that's 2.-0 LCA consultants for you.
Our YouTube channel is organised into 5 playlists (as seen in picture below):
Conferences
Webinars
Project presentations
Interviews
Edutainment
You should not expect fanciful film making in our videos – but what you will find is our usual solid, truly science-based solutions for measuring progress towards sustainability with LCA.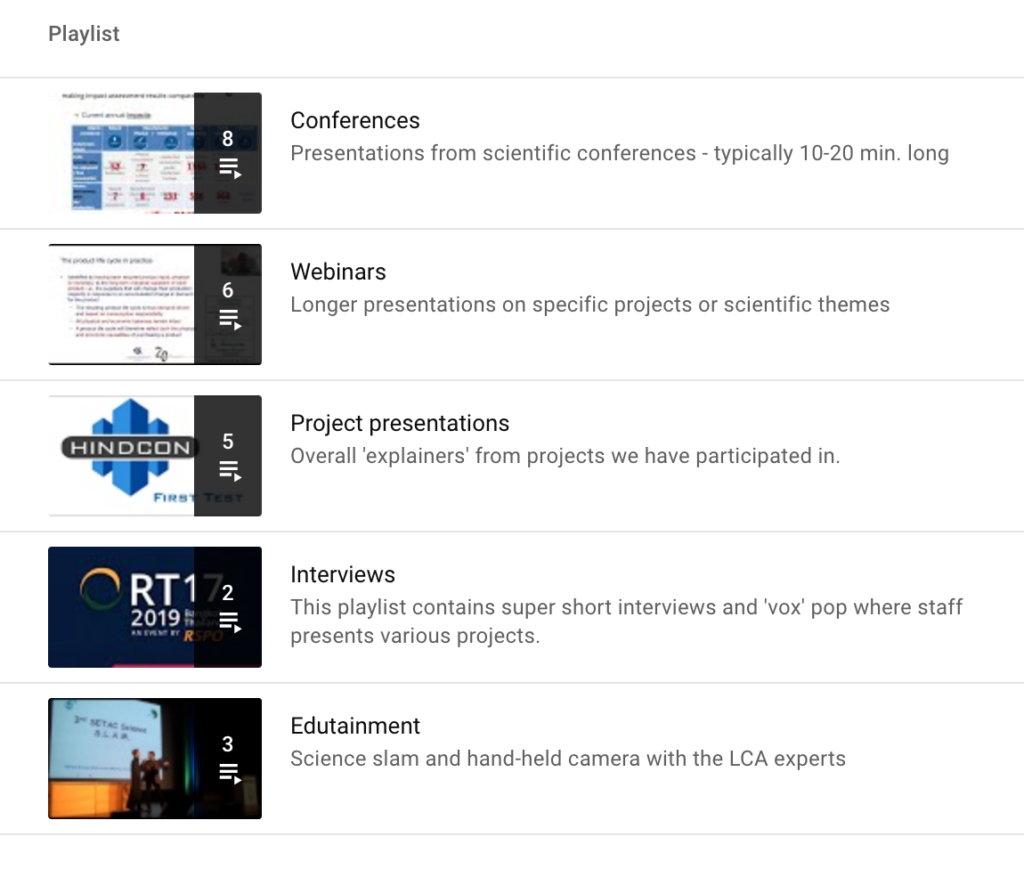 July 12, 2021 by Michele De Rosa
Some of our clients that produce palm oil with the lowest environmental footprints, now give up on the European market and divert their production to the Asian market, currently much less restrictive in terms of environmental performances. This means that the previous achievements made by those companies may now be reverted, to compete in a more aggressive market with lower environmental requirements.
Although some RSPO certified producers of palm oil have already halved their carbon footprint and have set aside land for nature conservation, significantly reducing the impact on biodiversity in addition to reducing the carbon footprint, so that the best-in-class producers achieve a lower footprint than for other vegetable oils (such as rapeseed oil, soybean oil and sunflower oil), these efforts are not recognised by the new EU criteria for determining risk for indirect Land‐Use Change (iLUC).
In December 2018, the revised version of the EU Renewable Energy Directive, known as RED II ('RED two'), entered into force. In March 2019, the European Commission published a Delegated Regulation supplementing the Directive by introducing criteria for the determination of high and low indirect Land‐Use Change (iLUC) risk associated with the expansion of feedstock production in land with high carbon stock.
The Delegated Regulation identifies iLUC risk based on the past direct land use change from 2008 onwards, regardless of the production system currently implemented, ignoring the geographical differences between producers and, de facto, disregarding the indirect nature of iLUC. The criteria do not trace the cause‐effect relationship between product demand and the indirect land use changes triggered. By not making any distinction between specific production systems, these criteria risk to exclude crops a priori, regardless of the environmental performance of the agricultural system, such as the GHG emissions per unit of product.
Palm oil is produced almost entirely (85%) in Indonesia and Malaysia, countries that in the last 20 years have experienced high deforestation. According to the criteria set by the RED II and detailed by the Delegated Regulation, palm oil from these countries cannot be counted as renewable when measuring target-achievement on the share of renewable energy in EU countries, because of high iLUC risk. In its current form, the iLUC criteria are scientifically unjustifiable and seem to protect the EU vegetable oil producers rather than the environment. This is sad news for RSPO certified companies and a dangerous development for forest and wildlife conservation in Indonesia and Malaysia.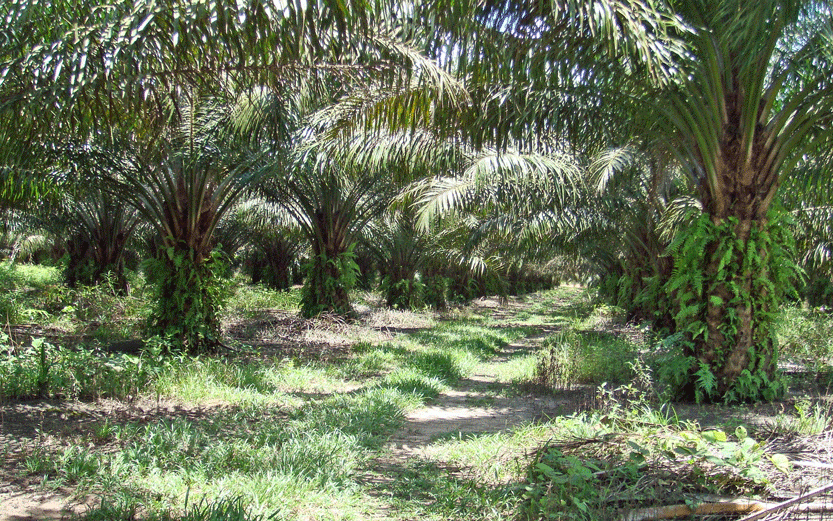 April 22, 2021 by admin
This is the title of a large new 4-year project to create a globally unique virtual lab and open database tool for quantitative assessment of the climate effects of decision alternatives, popularly speaking 'a climate footprint generator', and a mechanism to ensure its continuous maintenance. The project builds on our experiences with two of the most used LCA databases: the consequential version of the ecoinvent database and the hybrid version of EXIOBASE.
A total of nine full-time persons and 5 Ph.D's will be working on this project in the next 4 years. We are currently assessing applicants for these jobs.

Read more at the project website.